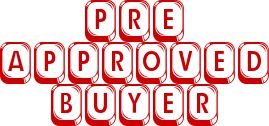 Getting Pre-Approved for a Mortgage Before Looking for a Home
It should come as no surprise that the vast majority of home purchases involve some type of financing. In fact, a study by the NAR (National Association of Realtors) reveals that 90% of home purchases are financed.  This is especially true for people buying their first home.
When it comes to a home loan, most borrowers have at least a few options.  That is why it is so important for buyers to carefully go over the loan process and determine the right loan for their needs.
Get a Pre-Approval
It is for this reason that Realtors advise buyers to talk to a mortgage loan officer before placing a bid on any home.  Most Realtors have established relationships with a few lenders and can recommend a reliable source for financing to any potential buyer. Meeting with a lender will give the buyer the chance to find out what they are able to afford for a home price.
Purchase documents normally include a clause that require proof of financing within a certain amount of time.  The time limit is usually not very long, only 7 to 10 days. Talking to a lender first and arranging appropriate financing will make the whole process easier for the buyer and less stressful.
Understanding the Pre-Approval
A pre-approval is a letter issued to a borrower from a lending institution.  It means that a loan officer has looked over the borrower's credit history, inquired about their income and savings, and has determined that the borrower should qualify for a mortgage. The pre-approval letter will outline the maximum amount for which the buyer can qualify.  Borrowers have the liberty to inquire about a pre-approval letter from multiple lenders but they need to understand an important fact.  Each interview with a lender will mean another check on the person's credit which can lower the credit score.
The pre-approval can be provided to the listing Realtor for a home in order to initiate a bid on the home. Most home sellers will not entertain any offers without having some level of assurance that the buyer is ready and able to go through with the purchase process.
Getting the Right Pre-Approval
Everyone's situation is different.  Some people have a significant down payment and can easily qualify for a mortgage loan with a bank or credit union.  Other people may have a limited down payment or some small credit issues and need to speak to a mortgage broker in order to find the right loan.  There are even a small number of sellers willing to entertain the idea of financing the purchase themselves, but only in certain circumstances.  That is why it is a good idea to talk to a Realtor and get some advice concerning which lender to contact.
Getting pre-approved for a mortgage before actually looking at homes will make the entire process much easier.  It will give the buyer a firm idea of their future payments.  It will also let them know the maximum amount they can spend on any home.  This gives the Realtor a price range to work with and can make house hunting much more efficient.